Adjustable Louvred Roofing
Louvre Roofs Melbourne
Convenient comfort
Experience the ultimate fusion of style, comfort, and versatility with Apollo Patios
Welcome to a new era of outdoor living brought to you by the premium Lumex Louvred Roofing System, Apollo Patios' perfect solution for Melbourne's unpredictable weather conditions. It helps you adapt to your surroundings based on your preferences effortlessly. Rain, shine, or in between, you have complete control at your fingertips.
Crafted from high-quality, durable materials, our residential louvre roofs are built to stand the test of time. Upgrade your lifestyle with Apollo Patios' Louvred Opening Roofs – your very own customised outdoor haven right here in Melbourne.
Experienced professionals
Get in touch with our Melbourne team for a personalised quote
At Apollo Patios Melbourne, we're your local experts in outdoor living solutions across the state of Victoria. We believe in making your dream of enhancing your outdoor living space a reality with louvre roof systems designed to suit your unique needs.
From louvered pergola kits to custom-designed patios, our team is committed to delivering exceptional customer service and craftsmanship. We service all areas within Victoria, from the bustling city centre to the tranquil suburbs. This includes:
Bellarine Peninsula
Central Victoria
Central West Victoria
Gippsland
Goulburn Valley
Melbourne
Mornington Peninsula
North East Victoria
Reach out to us at 1300 886 443 to schedule a free Design Meeting today. Our local designers and installers are backed by the assurance of Apollo Patios, providing you with confidence and peace of mind.
Custom design
Bespoke louvered roofs tailored to your Melbourne home
Here at Apollo Patios, we recognise that your home is one-of-a-kind. That's why we're delighted to bring you the Lumex louvre roof system, which is adaptable to your unique outdoor space and designed to harmonise with your home's aesthetic seamlessly.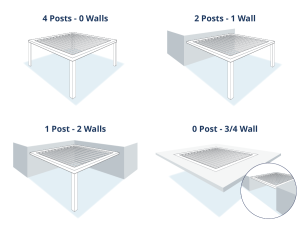 Intrigued to learn more? Our Louvred Opening Roofs Brochure below offers you a comprehensive overview. We suggest to download it for a more in-depth look. Or, better yet, why not reach out to our friendly Apollo Patios Design Consultants? They're always on hand to assist in meeting your outdoor living dreams in Melbourne.
High quality
Key features of our louvred roof systems in Melbourne
Privacy and Light Control
Our motorised adjustable louvre blades gift you the freedom to dictate your outdoor experience. They offer flexibility up to an angle of 130 degrees, allowing you to choose abundant fresh air, ample shade or the right degree of seclusion – an ideal solution to counter Melbourne's unpredictable weather. Additionally, optional rain sensors and integrated LED lights promise to create your perfect evening ambience.
Strong Construction
The opening roof systems, engineered from sturdy aluminium and stainless steel with a profile thickness ranging from 3 to 8mm, are designed to withstand the harsh sun and diverse weather conditions of Melbourne, making your investment enduring and worthwhile.
Smart Technology
Revel in smart living with our optional tech enhancements like rain sensors and LED lights. Using the intuitive APP control, you can manage your outdoor settings easily – sun protection and comfort have never been this effortless.
Powder Coat Colour Options
Whether your home speaks in tones of timeless White or modern Monolith, we've got you covered. Got a custom shade in mind? Let us know. We're always up to custom design based on your specific needs.*
10-year Warranty
We stand by our craftsmanship, offering a standard 10-year Warranty on Powder Coating. Rest assured, knowing your investment is secured and guaranteed to add aesthetic appeal to your home for years to come.
Inspired spaces
Opening roofs gallery
Be inspired. Explore these images of louvred opening roofs.