Inspired spaces
Market leader in roofing and patio construction
A welcomed introduction
Meet the team
Welcome to Apollo Patios Victoria. We are so happy that you've embarked on your home improvement journey.
The fully accredited Apollo Patios team are a testament to the hard work that goes into creating and building dream outdoor spaces. With Apollo, you can expect to engage with down-to-earth humans that are motivated to work together for the greater good.
We love what we do because to us, it's more than 'just a roof' or home addition.
We genuinely care about your home enhancement experience and are proud of each and every family that we help to create priceless and memorable experiences.
One family
Achieve your dream outdoor lifestyle
It's our mission to collaborate with you to create the perfect outdoor space for you to live and grow in, an enhancement of your home that allows you to enjoy an exceptional outdoor lifestyle.
Our friendly and experienced team welcome the opportunity to virtually meet you, in the comfort of your own home, and guide you through a personalised, free Design Meeting to plan an outdoor space that you'll love.
From our family to yours, we are pleased that you have embarked on the journey with us to build a better lifestyle.
From concept to completion
We deliver a personalised experience
At Apollo Patios, we know we're creating more than just a remarkable outdoor space or adding value to your property – it's your home, and home matters.
We've been in the business since 1995 and we relish the opportunity to be part of this exciting time in your life by helping you create a space you love to come home to.
From our communication to our design process, every aspect of our service is carefully considered to ensure your home improvement project is truly memorable for all the right reasons.
One family
For us 'Home' matters
We manufacture and build our products to last and test them rigorously to deliver to the highest standards.
We love what we do and care about building a better lifestyle – from our family to yours and for our team.
To us, those two words 'Home matters' mean something to us. We appreciate we have people's pride and joy in our hands, and we don't take that lightly.
Plus, as both the manufacturers and the installers, you get an easy, streamlined experience with one point of contact and a single, simple warranty.
Servicing locally
We specialise in supplying all the requirements for home additions, right down to every nut and bolt.
With franchises and dealers across Queensland, New South Wales and Victoria, choosing Apollo Patios means you will be working with local agents who know the region and truly understand what will work best.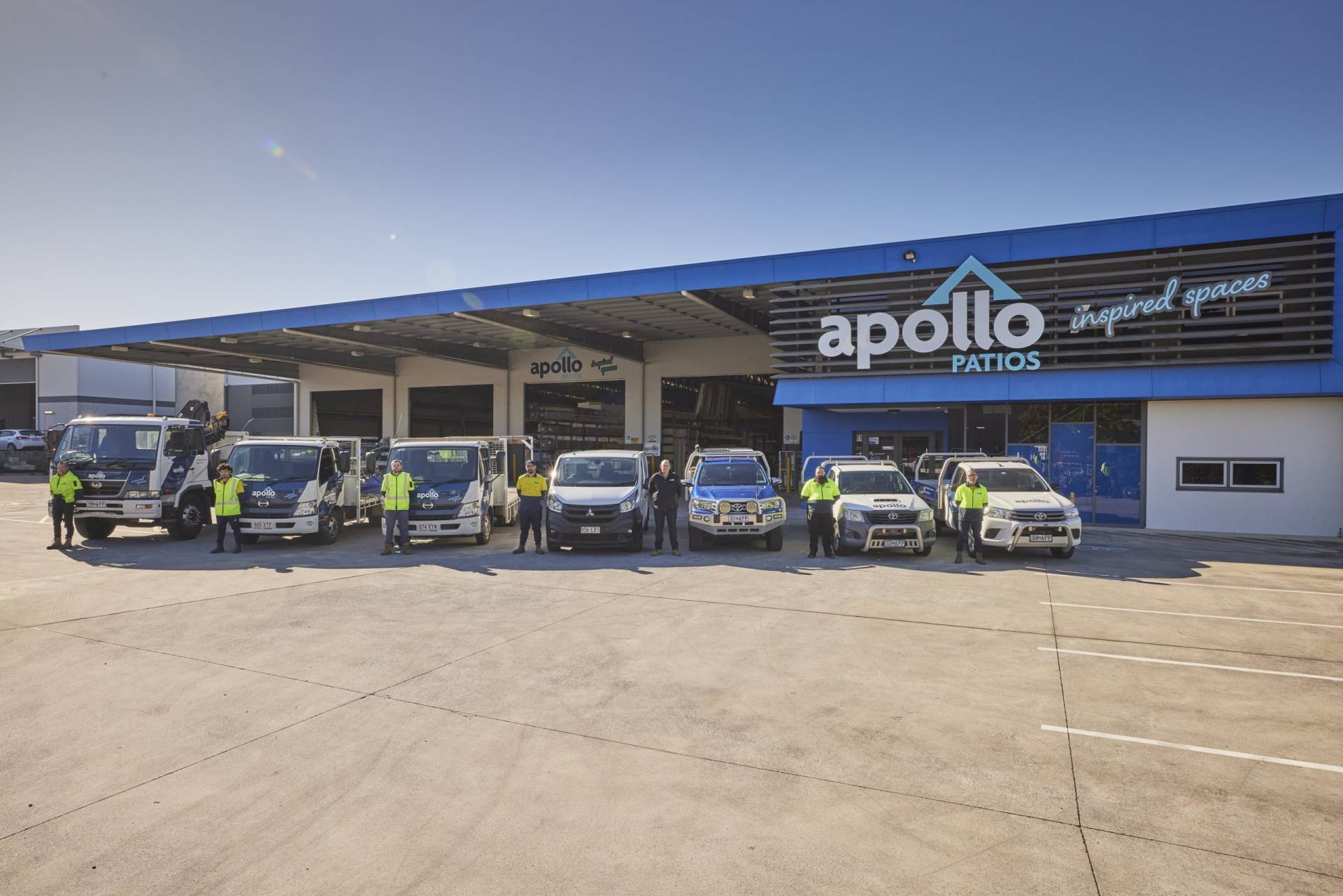 Our products are Australian made and manufactured in each key region we service, with local authorised dealers available to liaise directly with you and provide advice to design an outdoor addition to suit your specific needs and home.
Apollo Patios products are designed and engineered to suit the specific climate of the area – think cyclone rated roofing panels for North Queensland, or All Weather Patio Screening Systems in Victoria for example.
Insulated Panel made to order
Create a remarkable outdoor space that offers superior protection, excellent noise absorption and a reduction in radiant heat transfer with our Insulated panels.
Choose from a stylish range of colours and styles, with both a Corrugated and a Trimlink profile roof panel available and a range of thicknesses to suit your required span.
Available from 50mm-200mm thick
Delivering exceptional thermal comfort properties
Fast and easy to fit reducing installation time
Self-mating interlocking joints
Watch our Insulated panels being manufactured in our Parkinson facility.
Explore our roofing
As manufacturers of both insulated panel roofing and single skin roofing, we offer a total system solution to our customers.
Our National Head Office and Queensland Manufacturing facility is located at Parkinson in Brisbane. There are also Apollo Patio Roofing manufacturing facilities based in Sydney, Melbourne, Cairns, Townsville and Rockhampton.