Screening solution
External Awnings
Add privacy and protection
Outdoor living, made more comfortable
Experience a whole new outlook with added privacy and protection all year round with an Ombra External Awning system professionally installed by Apollo Patios.
Sleek, secure, and a durable alternative to traditional awnings and outdoor roller shutters, an external awning is the ultimate solution to keep you shielded from insects and the elements, regardless of the season.
Whether it be a patio, pergola, veranda, balcony or home and office windows, an Ombra External Awning is custom designed to fit almost any area.

Stay shielded
The ultimate external screening solution
Maximise the usability of your outdoor area and shield yourself from the elements, insects and neighbours.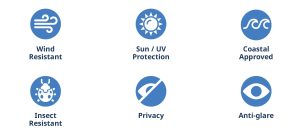 The Ombra External Awning system is the perfect addition for any entertaining area.
Available in three clever configurations:
Straight Drop: Offering a simplified cost-effective solution which is secured at the bottom using a clip or strap.
Wire Guide: A discreet cable guided solution, great for floor to ceiling applications. Featuring a universal bracket to fix the base of the wire guide to the floor, face or recess.
Zip Guide: Breakthrough Z-Lock™ technology provides a unique fabric guide, fastening and securing the welded zip and fabric concealed within the side channels; creating a strong, smooth and streamlined system and insect free environment.
Please download our External Awnings Brochure below or ask your Apollo Patios Design Consultant for further information.
Personalise to suit
Aluminium Colour Range
Be creative and transform your outdoors with our extensive colour range and fabric options. Customise your Ombra system to suit your homes architecture and colour palette.
Choose from an extensive range of colours to customise the Aluminium Headboxes, Side Channels and Bottom Rails.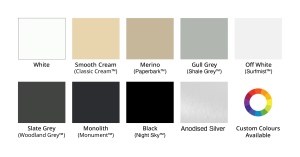 We give you full control to choose the colour, texture and pattern of your screening fabric, or choose to be guided by our experienced team.

When selecting your screening fabric consider the colours on your exterior such as the roof, guttering, bricks and other finishes.
Whether you like a contrasting look using opposing colours, a similar tone for a subtle variation or an exact match for a uniform finish, the Ombra colour range can provide endless possibilities.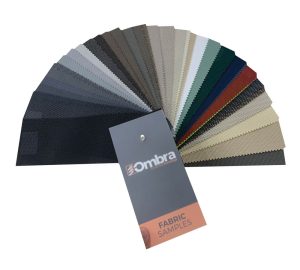 Exceptional calibre
High quality fabric
Rest assured your Ombra Awning system is made with high quality, high tensile material, strong and durable yet able to allow a moderate flow of fresh air.
Reduces heat transmission and improves air-conditioning efficiencies
Reduces glare in direct sunlight
Provides privacy without compromising the view
Supported with a 5 year warranty
Environmentally friendly
Conveniently available in three variations of openness to suit your specific needs.
Add convenience
Control Options
There are a range of options to control your Ombra outdoor screens, from conventional manual controls, with a simple crank gear or spring solution, to our premium motorised system.

Please download our External Awnings Brochure below or ask your Apollo Patios Design Consultant for further information.
Total control
Smart Options
Smart Phone Control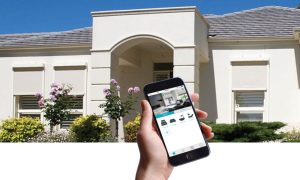 Have total control right in the palm of your hand, whether you're home or away. Receive live animated shade feedback, through the Automate app, know exactly what your shades are doing and control them directly from your phone.
Voice Control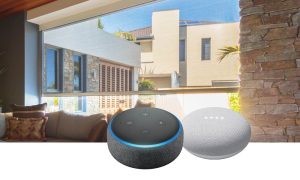 For the ultimate comfort and convenience, control your shades without even having to lift a finger, lower or raise them with a simple voice command via Amazon Alexa or Google Home instead.
Accessorise
Optimise your Ombra
We also provide a hand-selected range of Accessories created to perfectly complement your Ombra outdoor screens including:
Headbox Style and Size Options
Bottom Rail Options
Tie Down and Lock Options
Bottom Skirt and Seal Options
To explore the full range please download our External Awnings Brochure below or ask your Apollo Patios Design Consultant for further information.
*Surcharge applies for custom colours. Not all colours are available in every state. Contact your Design Consultant for individual state colour range. The colour when viewed online or colour swatches provided give an indication of colour only and may not be an exact representation of colour. We recommend checking your chosen colour against a sample of the product.
The External Awnings and Blinds product is currently not available in Victoria.
Please explore the All Weather Patios product page for a screening solution for your patio.
Inspired spaces
External awnings gallery
Be inspired. Explore these images of external awnings.