Carports have become an increasingly popular addition to Australian homes, offering a cost-effective and versatile solution to protect your vehicle from harsh elements. With their sleek design and ability to blend seamlessly into your property's aesthetic, carports not only provide functional benefits but also enhance your home's curb appeal. But, how much does it really cost to build a carport?
You might be surprised to learn that constructing a carport is a relatively affordable investment for homeowners, providing long-lasting protection for your vehicle while also adding value to your property. Read on to learn more about the various factors affecting carport costs and the steps needed to build a carport.
Which factors will impact carport prices?
Several factors can impact the overall cost of a carport, making it essential to consider each one when planning your investment.
Carport Kit or Custom Carports: Prefabricated carport kit designs are generally more affordable than custom-built solutions, but they offer less flexibility in terms of design and features.
Carport Size: Generally, the larger the carport, the higher the cost. A single-car carport will be more cost-effective than a double-car or larger structure, as it requires fewer materials and labour. A carport customised to offer clearance for larger vehicles may have additional costs.
Location of Your Home: The geographical location of your property may also influence the price, with factors such as local building regulations, weather conditions, and transport costs playing a role.
Carport Design: Simple, minimalist roof designs tend to be more economical, whereas elaborate or architecturally unique carports may come with a higher price tag due to the materials used or time taken for builders to complete the project.
Building Materials Used: The choice of materials, such as single skin or insulated roofing, will significantly affect the cost. Each material has its own advantages and price points, so it's crucial to choose the one that best suits your needs and budget.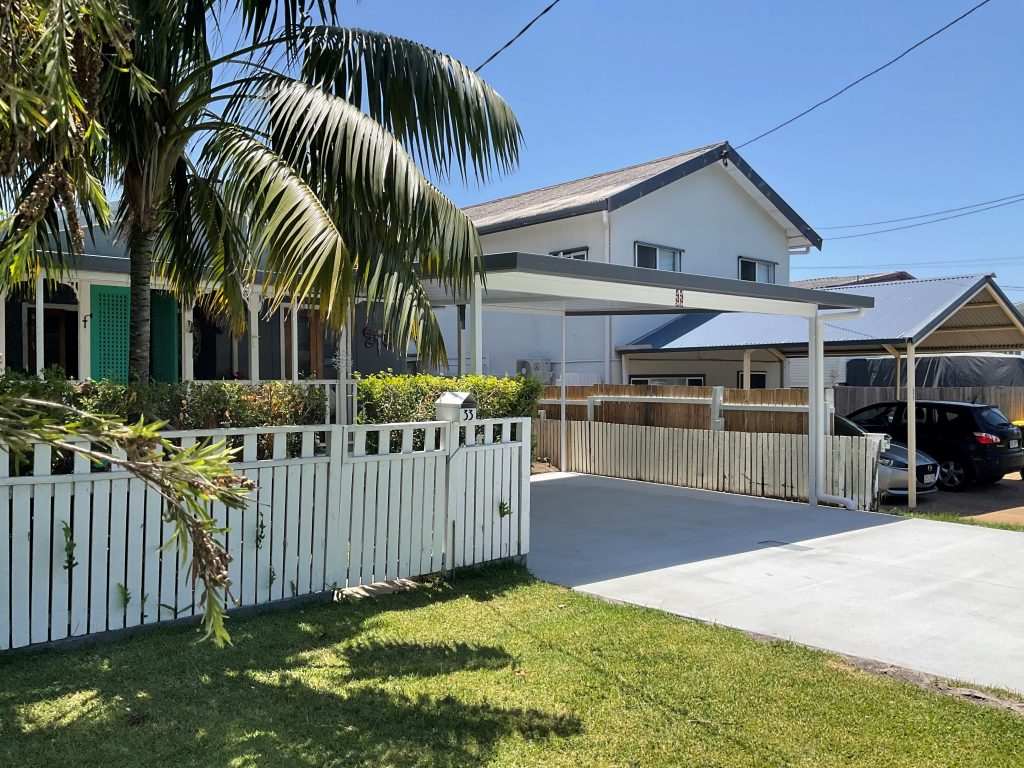 How much will carport roofing cost?
Curious about the cost of your carport roofing? At Apollo Patios, we've got you covered with two fantastic options: Single Skin Style and Insulated Panel Roof, tailored to fit your unique taste and budget.
Single Skin Style
If you're looking to build on a budget without compromising on quality, our Single Skin Style is perfect for you. It's crafted from high-grade steel and comes in two profile finishes to suit your individual style: Unilink 2000 or Outdoor Flat Mark II. You choose what works best for you.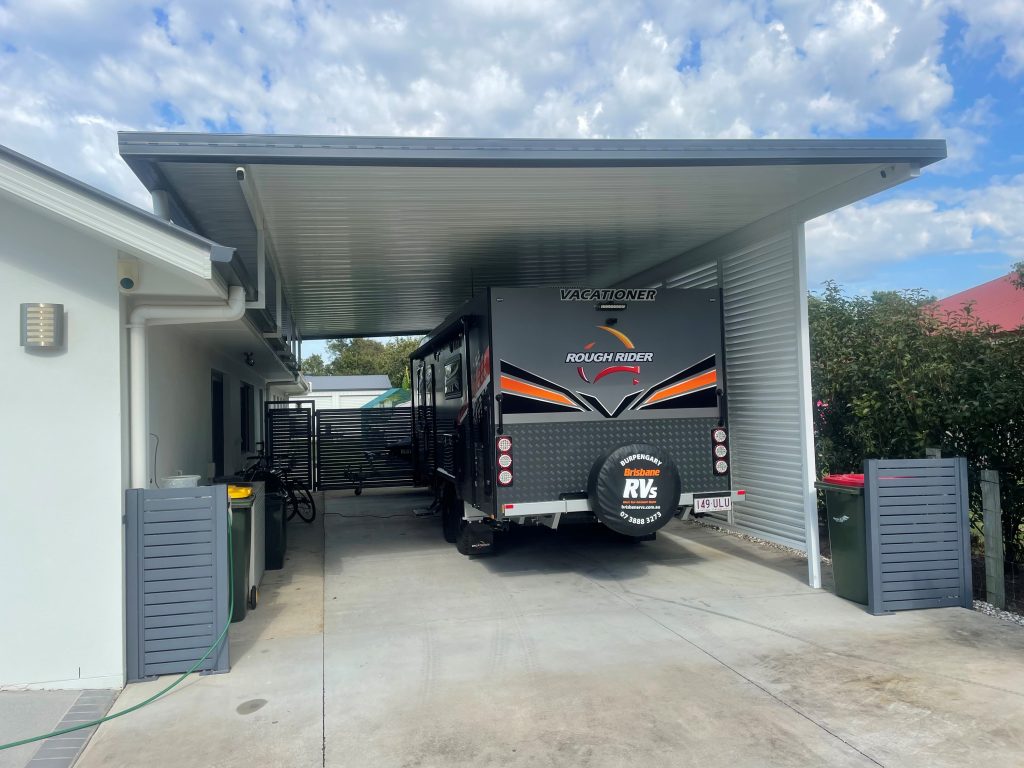 Insulated Panel Roof
For those in search of a premium entertainment area, our Insulated Panel Roof is recommended. It offers top-notch noise absorption, superb protection, and a considerable decrease in radiant heat transfer. With a choice between two profile designs that will seamlessly integrate with your home's style, our insulated roof provides exceptional thermal properties and a smooth ceiling-look finish.
Our Insulated Panel Roof comes in varying thicknesses from 50mm to 200mm and can span up to 12.5M, eliminating the need for beams and ensuring a clean, ceiling look finish.
For a personalised quote that includes professional installation for your carport, drop us a line today. We're always here to help.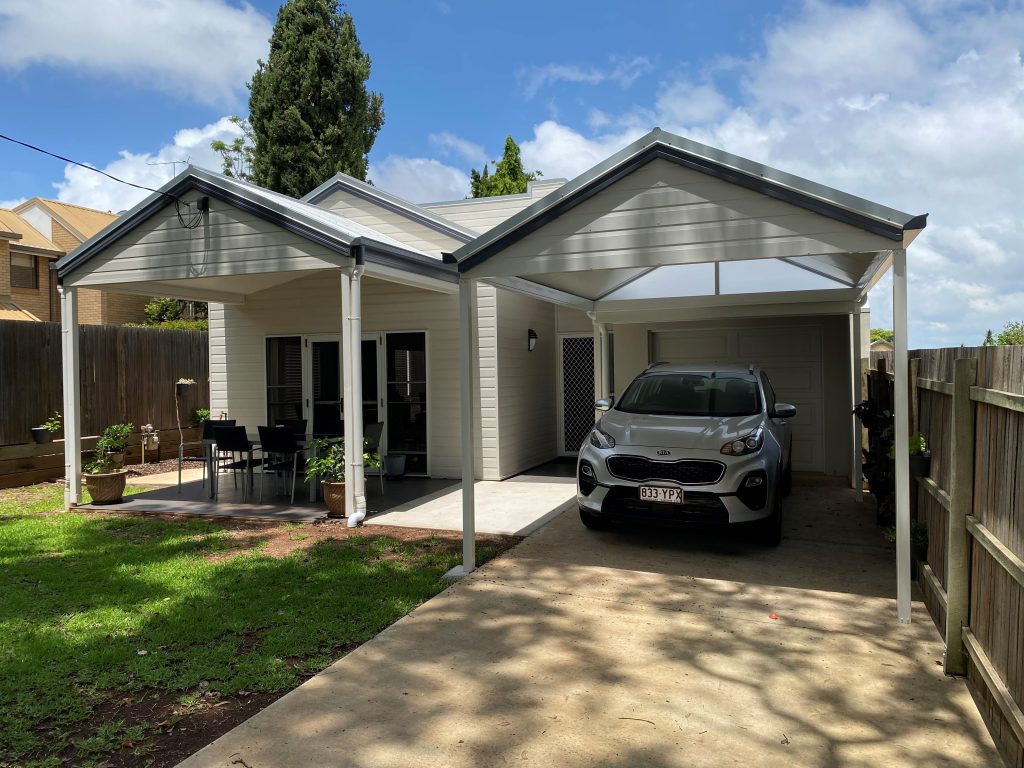 What additional costs could you incur from a carport build?
Apart from the primary factors affecting carport prices, there are additional costs you may incur during the construction process. These expenses often arise from customisation and other necessary preparations:
Laying a Cement Slab: A solid foundation is crucial for your carport's durability. Laying a concrete slab is a necessary cost consideration as it ensure the structure is built on a solid, stable foundation ensuring longevity for your structure.
Carport Preparation: Surface preparation also known as site preparation, including things such as removal of existing structures, clearing debris, levelling the ground, or removing trees. This may be required before construction begins and can result in added expenses.
Carport Council Permit Fees: Depending on your local council regulations, you will likely need to obtain a building permit for your carport. The council approval will attract council fees, however these permits can vary, so it's essential to factor this into your overall budget.
How do you estimate the cost of a carport?
At Apollo Patios, we understand that each carport project is unique, which is why we take a personalised approach to estimating the cost. To provide you with an accurate quote, we begin by scheduling a call to arrange a Design Meeting. During this consultation, our experienced team will discuss your specific requirements, preferences, budget constraints and the applicable regulations.
By understanding your vision and expectations, we can recommend the best solution for your needs and constraints and offer a precise cost estimate for your ideal carport. With Apollo Patios, you can rest assured that you'll receive a high-quality, custom carport at a competitive price, that will stand the test of time.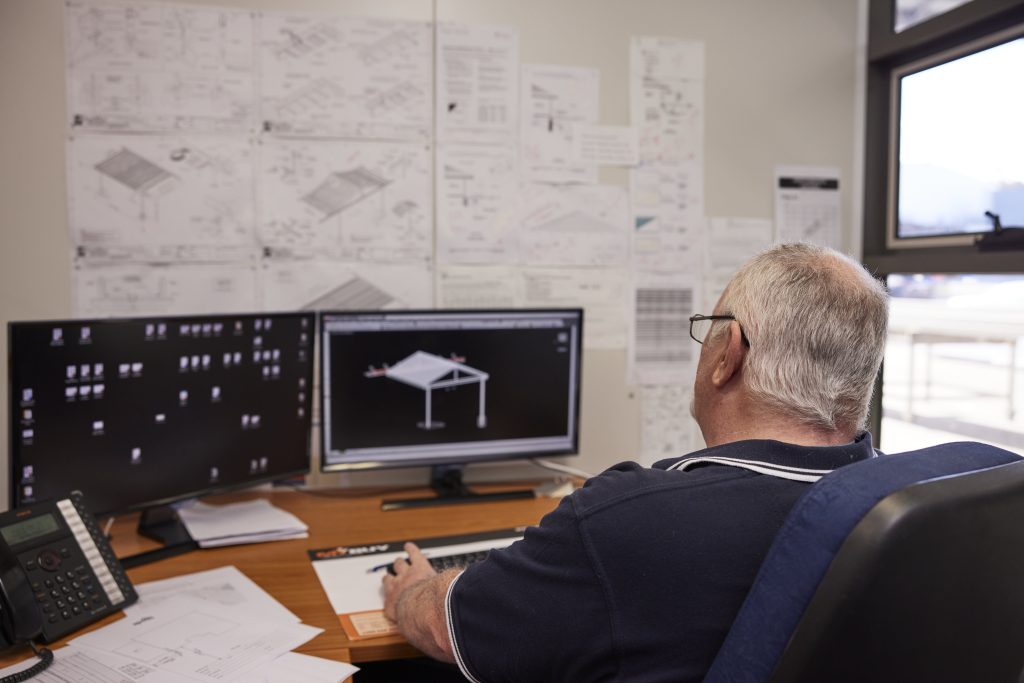 Steps needed to plan your carport build
Planning your carport build requires careful consideration of several factors to ensure a seamless process and an end result that meets your lifestyle requirements. Here are the essential steps to follow:
Determine the Number of Vehicles: Assess how much space or how many vehicles or storage space you need the carport to cover, as this will dictate the size and contribute to the design of the structure. Specialist or large vehicles such as campervans or boats will need to be considered.
Evaluate Available Space: Measure the available space on your property to ensure there is sufficient room for the desired carport size and layout.
Research Local Building Regulations: Familiarise yourself with the carport building regulations in your area to avoid potential issues or delays during construction.
Obtain a Building Permit: Secure the necessary building permit from your local council before commencing the project.
Choose Between Attached or Freestanding Carports: Attached carports connect to your home offering a more integrated look. Freestanding carports tend to provide greater flexibility in terms of location.
By addressing these factors, you can understand a total cost and ensure a smooth and successful carport planning process that caters to your specific requirements.