If lockdowns taught us anything it's the value of having a sanctuary within our home – a place we can escape to relax and unwind. With Australia's temperate climate, it makes sense to create that sanctuary outdoors.
Maximising your outdoor space is simply about increasing the functionality so that you spend more time out there. How you go about doing so will differ depending on where you live and your lifestyle.
If you're not sure what to do, start by asking yourself what you will get the most use out of. If entertaining is high on your list, creating a functional entertainment space would be ideal. If you are a keen gardener, add in some landscaping or gardens you can enjoy on your days off. Below are some more ideas to consider if you're looking to maximise your outdoor space.
1. Upgrade your storage
Nothing makes a space less appealing than clutter. Whether it's the kids' toys, gardening tools or overflow from the house, make your outdoor space more functional by adding in some clever storage. Add a built-in bench or choose furniture with hidden storage, hang bikes or tools on a wall, install a lockbox or shed. Create enough storage space so that everything has a home – and then add in a little extra to account for expansion. 
2. Add in a vegetable garden
Why not maximise your outdoor space and reduce your grocery bill in one fell swoop with a veggie patch? Growing your own produce is incredibly rewarding and has the added benefit of nourishing your family. Plus, children who are resistant to eating veggies can sometimes come around to enjoying them when they've played a part in growing them, so it could be a win win all around.
3. Build a deck
There's very good reason why the experts agree that a deck pays for itself in added value to your home. Whether it's entertaining friends or whiling away an afternoon in the shade with a good book, a deck offers immense functionality. More elegant than your average cement porch and more practical than a small balcony, the right deck design can effectively provide you with a stylish outdoor living space that you can enjoy all year round.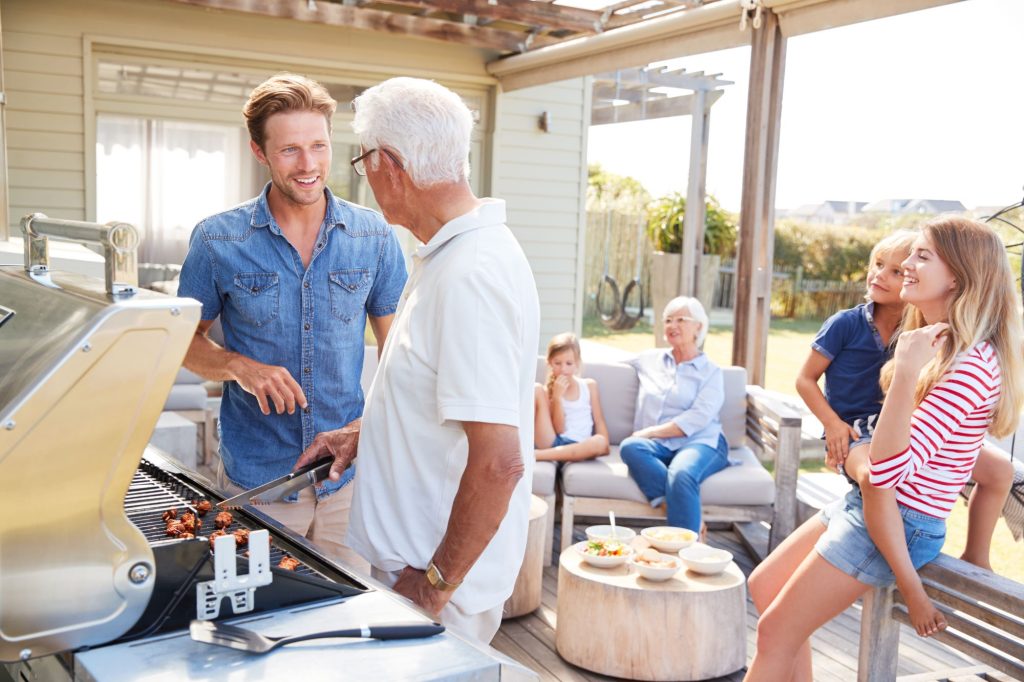 4. Add a patio
A patio can offer you protection from the elements so you can spend more time enjoying your outdoor space regardless of the weather. As an added bonus, it can also keep your home cooler in the summer months by reducing the amount of direct sunlight that hits your windows. From skillion to gable, flyover to freestanding, there are numerous patios to choose from depending on your preferred style and what works best with the architecture of your home.
5. Install an outdoor fire pit
Imagine sipping a glass of wine while stargazing or roasting marshmallows with the kids without having to leave the comfort of your own home. A fire offers a certain ambiance that no other source of light can replicate. Ideal for entertaining, a fire pit can also be used to grill meats, veggies and other foods. You can get a custom-built fire pit or you can pick up one up from your local hardware store. Be sure to take adequate precautions and suitably prepare the space to prevent fire hazards. 
6. Consider an enclosed space
If the weather in your region isn't as temperate as other parts of Australia or you're looking for additional protection from the elements, you may benefit from a patio enclosure. Surround an outdoor space with screens or glass to transform a semi-functional area into one that can be utilised through the coldest, wettest or insect-ridden months of the year.  
7. Eke out a dedicated play area for the kids
Get the kids outdoors more often by creating a play space they can't get enough of. Whether it's a swing set, slide, sandpit or something else that will keep them occupied for hours on end, dedicate a section of your outdoor space to their entertainment. As kids have a way of spreading their toys and playthings far and wide, it may also help to build some storage nearby too to keep belongings packed away.
If you feel like you could use some help figuring out how to make the most of your outdoors space, find an Apollo Patios Builder in your local area now.