Upgrade your lifestyle and outdoor living experience with our captivating pergola design ideas. Our skilled designers are passionate about crafting stylish, versatile pergolas that harmonise with your home's architecture while providing essential shade and shelter. Let us guide you and unlock the untapped potential of your backyard, transforming it into an enchanting haven for relaxation, entertainment, and cherished moments with loved ones.
What are the most popular pergola designs?
Skillion Pergola Designs
Skillion style pergolas have a modern, sleek look with their single-sloping roof, which is great for increased sunlight and enhances the aesthetics of your home. They're perfect for contemporary homes, as they combine form and function while providing ample shade and protection from the elements.
Gable Pergola Designs
Gable pergolas are all about that classic pitched roof look, adding elegance and charm to any outdoor space. With a high, open ceiling, you'll get a spacious, airy atmosphere perfect for entertaining guests or enjoying family time in your backyard oasis.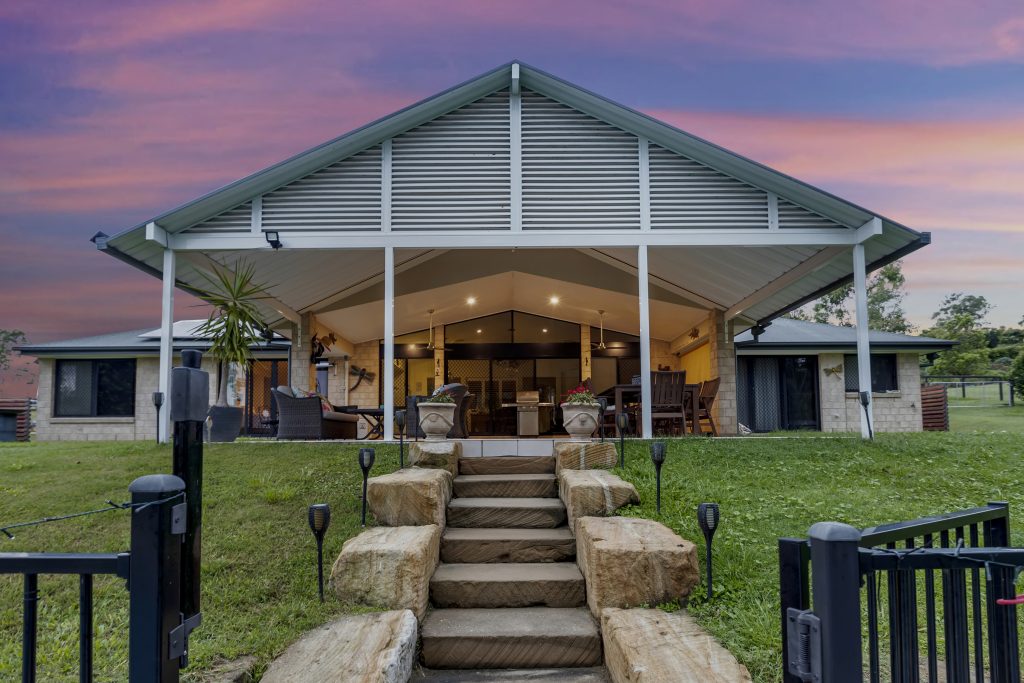 Flat Roof Pergola Designs
If you're into minimalist aesthetics, flat roof pergolas are the way to go. They complement various architectural styles, and their simple, popular design provides ample shade and shelter while seamlessly blending into your home's exterior.
Flyover Pergola Designs
Want to elevate your outdoor living experience? Flyover pergolas have a raised roof design that creates an impressive sense of height and space. Plus, they allow for greater airflow and sunlight penetration, making your outdoor room even more comfortable and inviting.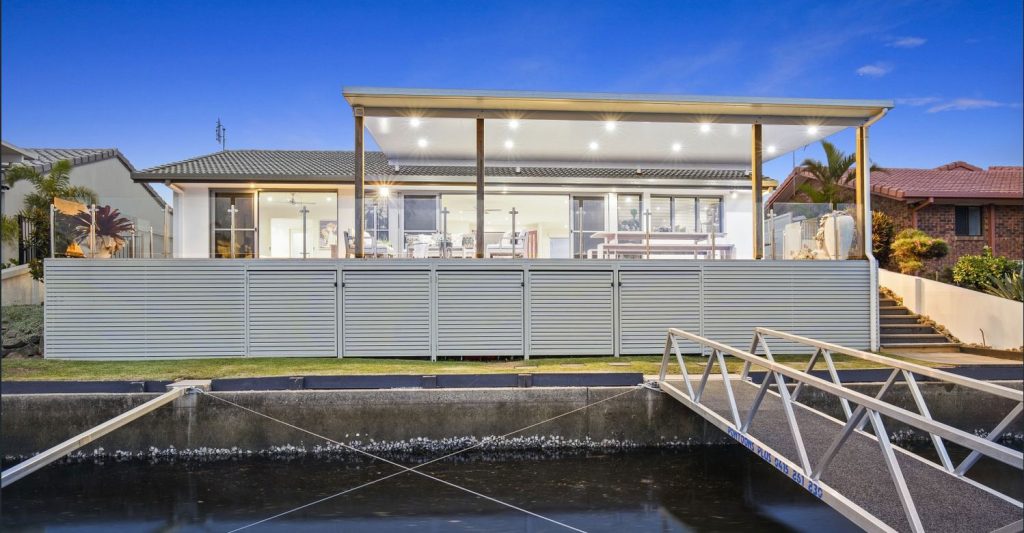 Free Standing Pergola Designs
Free standing pergolas offer incredible flexibility, letting you create a beautiful, shaded area anywhere in your yard. As they don't need to be attached to your home, these pergolas can serve as focal points, garden features, or cosy fire pit locations away from the main house.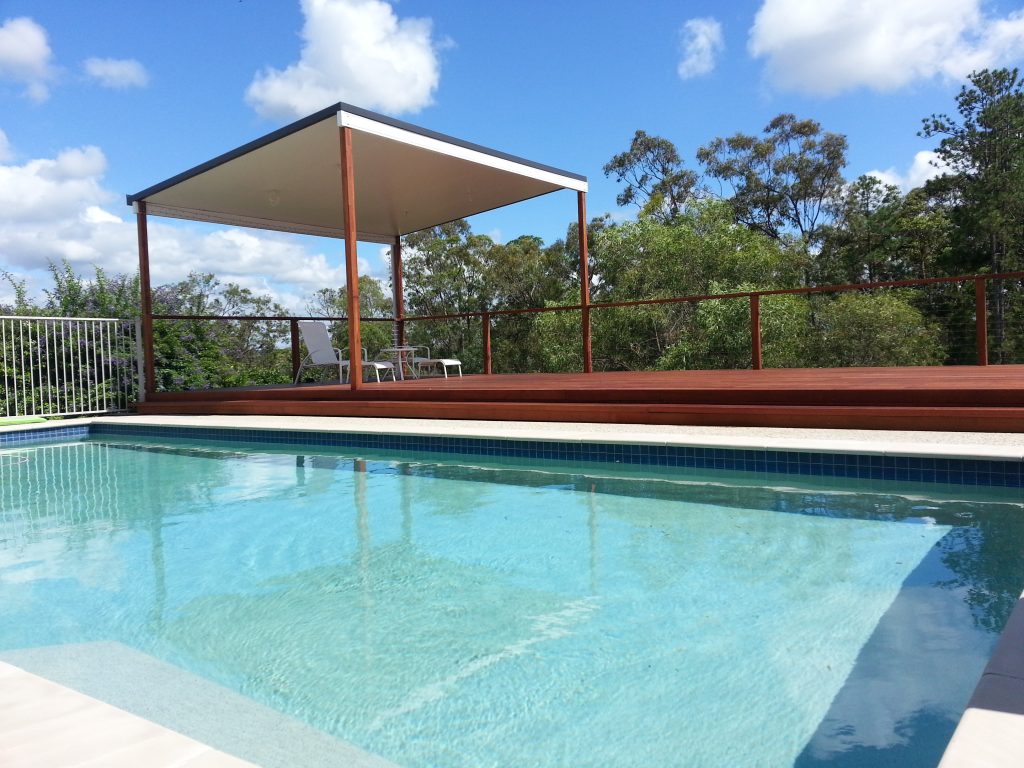 Alfresco Pergola Designs
Alfresco pergolas are designed to create a seamless transition between indoor and outdoor spaces, so you can enjoy the best of both worlds. They're perfect for outdoor dining, entertaining, or just relaxing while taking in the beauty of your lush garden.
Breezeway Pergola Designs
Breezeway pergolas connect two separate areas or structures of your home, offering a shaded walkway that's both beautiful yet functional. These pergolas not only enhance your property's aesthetic appeal but also create a practical and comfortable passage between spaces.
How do I choose a pergola design?
Apollo Patios are here to guide you through this process, ensuring that you make the best choice to enhance your home's aesthetic appeal and functionality. Let's explore 9 key considerations that will help you choose a pergola design tailored to your unique needs, preferences, and vision for your dream backyard haven.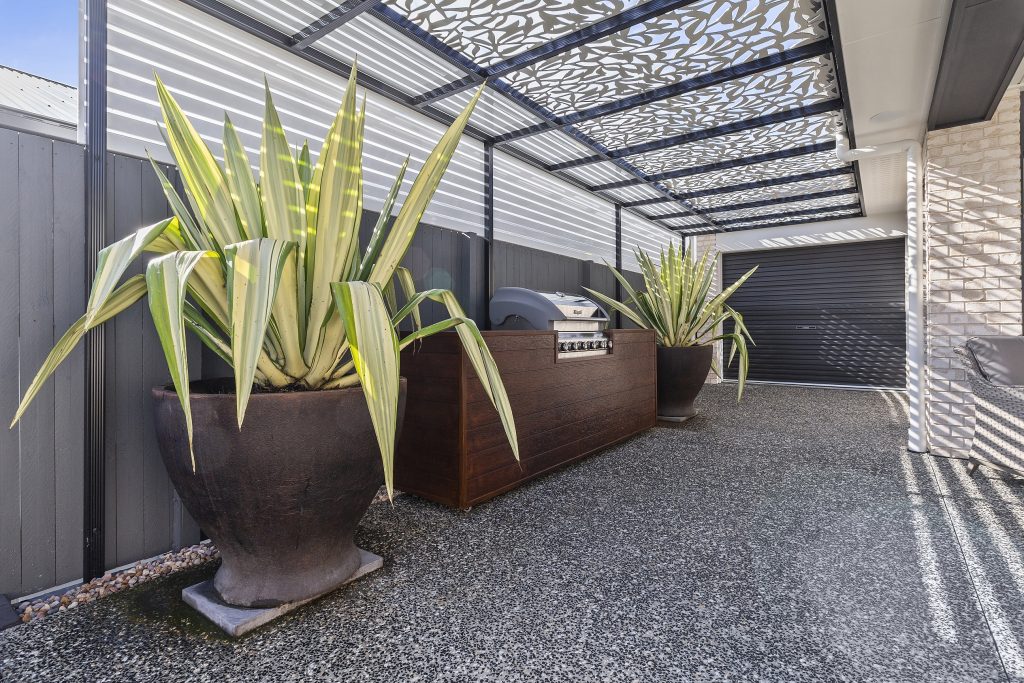 1. Purpose and Functionality
Before diving into the world of pergola designs, it's essential to identify the primary purpose and intended functionality of your new structure. Will your pergola serve as an outdoor kitchen or a cosy outdoor room for relaxation, or a shaded walkway connecting different parts of your garden? Understanding the function of your pergola will greatly influence the size, style, and roof design you select.
2. Size and Proportions
Carefully consider the size and proportions of your pergola in relation to your outdoor space and existing structures. A pergola that is too small may not provide adequate shade or space for outdoor seating, while one that is too large can overpower your landscape and make your yard feel cramped. Strive for a harmonious balance that complements your home and it's surrounding environment.
3. Style and Design
When designing your pergola, ensure it integrates seamlessly with your home's architectural style and outdoor aesthetic, including roof style and materials used. From classic gable designs to modern skillion styles, a wide array of profiles and colours are available to suit your personal taste, preferences and existing architecture. Consider the colours, finishes, and decorative elements that will best enhance your home and create a cohesive look.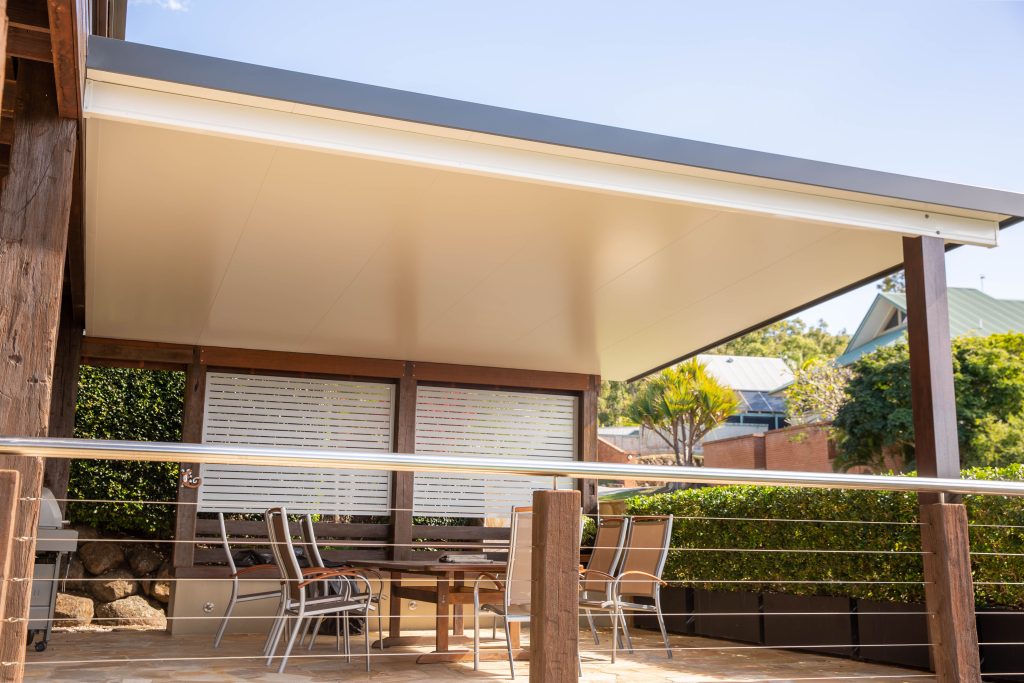 4. Material Selection
Selecting the right material for your pergola idea is crucial in determining its maintenance requirements, suitability to your lifestyle and overall appearance. A pergola with timber-look posts offers a classic wooden pergola look with timeless appeal while providing warmth and natural beauty to your outdoor space. However, you may like a bold, modern look with contrasting colours black or white posts and beams.
5. Roofing Options
The pergola roof you choose not only impacts the structure's overall aesthetic but also determines the amount of shade and protection from the elements. Pergolas traditionally range from open roofs to decorative style screening for partial protection through to solid pergola roof options. Consider factors like sunlight penetration, air circulation, and rain protection when selecting the ideal roofing solution for your home.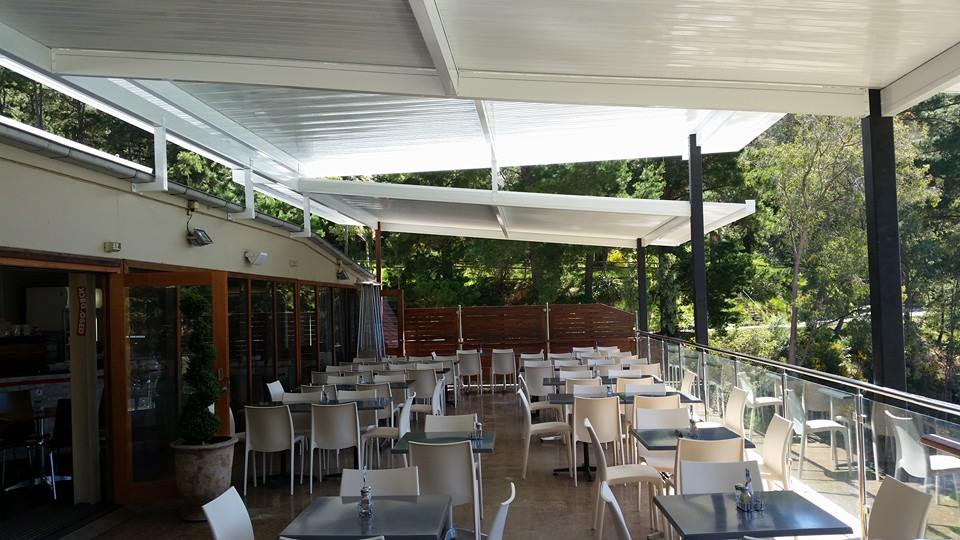 6. Customisation and Accessories
Enhance your pergola by incorporating various customization options and accessories, such as lighting, fans, heaters, and decorative screens, to create a focal point near an exterior wall or in the centre of your outdoor space. These additions not only elevate the ambience and comfort of your outdoor area but also allow for a personalized touch.
7. Budget and Costs
Determine a realistic budget for your pergola project, factoring in material costs, labour, and any additional features you desire. Be mindful of potential hidden expenses, such as permits or site preparation, and explore financing options if necessary. A well-planned budget will ensure a smooth process from design to installation.
8. Local Regulations and Permits
Before construction begins, familiarise yourself with local building codes, zoning regulations, and permit requirements that may affect your pergola project. Some areas may have restrictions on size, height, or placement, which could impact your design choices. Consulting with professionals and obtaining necessary permits will ensure compliance and avoid potential issues down the road.
9. Installation and Professional Support
Finally, decide whether you will tackle the pergola installation as a DIY project or enlist the help of professional contractors. While DIY may save on labour costs, hiring experienced professionals can ensure proper installation, safety, and adherence to local regulations. Apollo Patios offers expert guidance and support throughout the entire process, guaranteeing a stunning and functional pergola that will stand the test of time for years to come.
What are some pergola lighting ideas?
At Apollo Patios, we understand that lighting can transform your outdoor living space into an illuminated oasis, and pergolas are no exception. Here are some of the most popular lighting pergola ideas:
1. Fairy Lights
Infuse your pergola with a warm, inviting glow by adorning it with fairy or string lights. These versatile and charming lights can be draped across the beams, wrapped around columns, or hung in creative patterns to create a cosy and intimate setting. With various styles, colours, and bulb shapes available, string lights offer endless possibilities to customise your pergola's atmosphere.
2. LED Downlights
Illuminate your pergola with the subtle sophistication of LED downlights, which can be strategically installed to provide targeted, energy-efficient lighting. These sleek and modern fixtures not only offer ample light for dining and socialising but also contribute to a clean, uncluttered aesthetic, seamlessly blending with your pergola's design.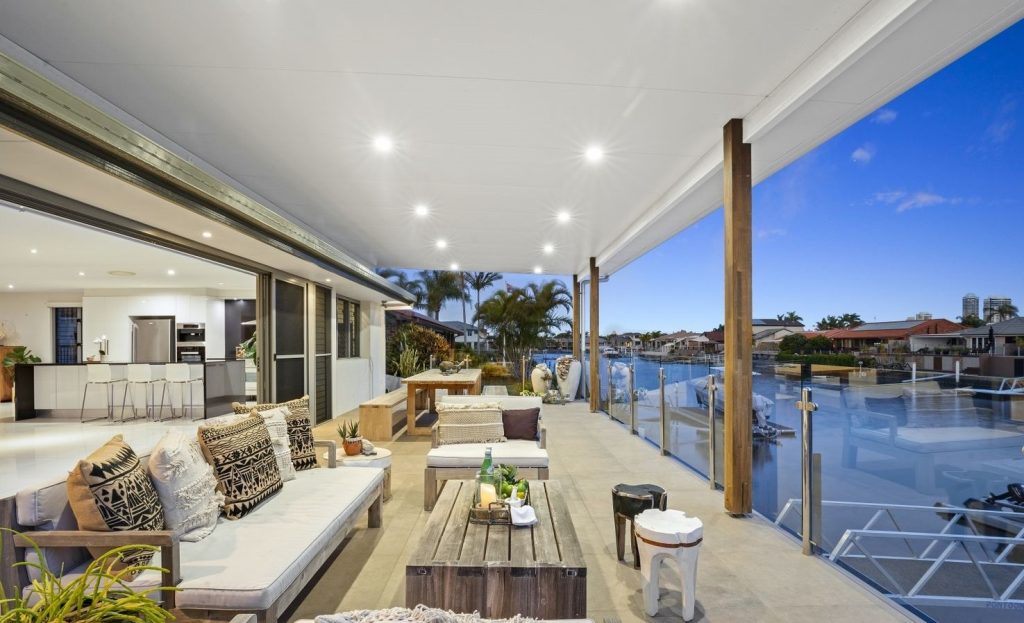 3. Lanterns and Hanging Fixtures
Add a touch of elegance and charm to your pergola with lanterns or hanging light fixtures. These eye-catching elements can be suspended from the beams or placed on tables, creating a warm and welcoming ambience. Choose from a variety of styles, materials, and finishes to complement your outdoor décor and enhance the overall aesthetic of your space.
4. Solar-Powered Pathway Lights
Guide your guests through your garden and to your pergola with sutainable solar-powered pathway lights. These eco-friendly and low-maintenance lighting options charges during the day and automatically illuminate at night, providing a soft glow along walkways and borders. Enhance your pergola's surroundings while creating a safe and inviting approach to your outdoor haven.
5. Integrated LED Strips
For a sleek and modern look, consider integrating LED strip lights into your pergola's design. These discreet and flexible lighting solutions can be installed along the edges of beams, under steps, or within handrails, providing a subtle yet striking effect. Customise your pergola's atmosphere with various colour options and adjustable brightness levels to suit your mood and desired ambience.
Should I consider adding pergola furniture?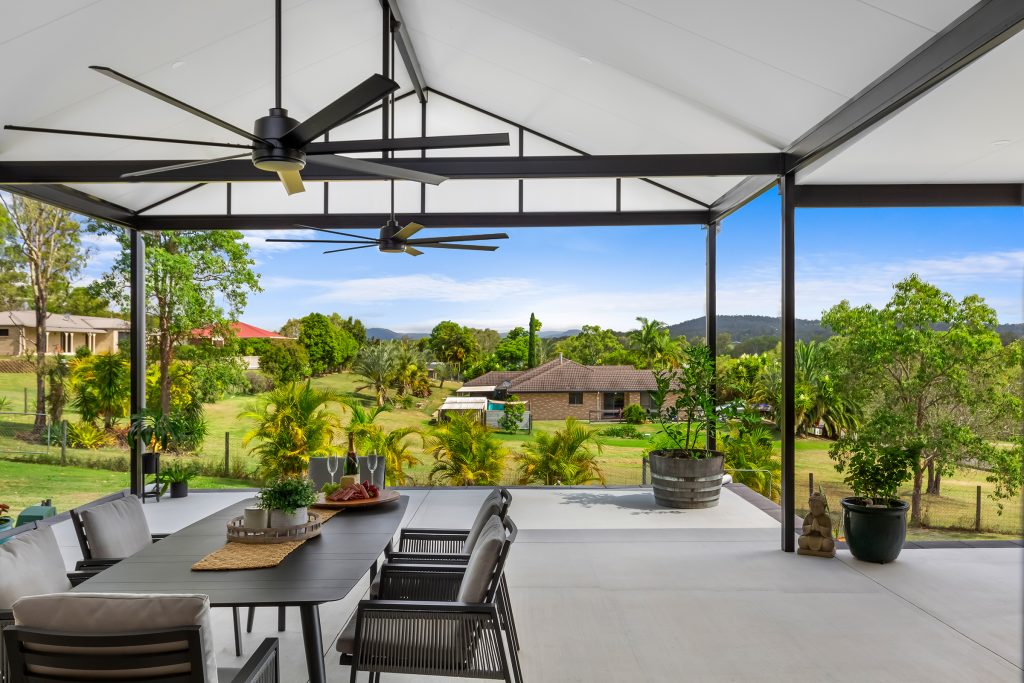 The short answer is Yes. Incorporating pergola furniture into your outdoor living space is a brilliant way to elevate the comfort, functionality, and visual appeal of your landscape.
A well-designed modern pergola serves as a stunning outdoor structure that provides shade, architectural interest, and a designated seating area for family and friends. If you have an outdoor kitchen, adding pergola furniture will further enhance your alfresco dining and entertainment experience.
Pairing a fire pit or outdoor heater with your pergola adds warmth and ambience to your outdoor space, creating a natural gathering spot for conversation and relaxation. Surround your fire pit with plush seating, such as cushioned chairs or benches, to establish a cosy retreat where guests can unwind and enjoy the flickering flames.
By carefully selecting furnishings that complement your landscape's design and reflect your personal style, you can create an enchanting haven that entices you and your loved ones to spend quality time outdoors.