Adjustable Louvred Roofing
Louvre Roofs Brisbane
Convenient comfort
Embrace Brisbane's weather with Apollo's adaptable louvred Roofs
Introducing the Lumex Louvre Roofing System by Apollo Patios – the ultimate solution for both residential and commercial buildings looking to transform their outdoor areas into luxurious spaces of relaxation and entertainment.
Our adjustable louvre-controlled solutions are engineered to work with Brisbane's weather, not against it. Enjoy the freedom to control your patio roof, allowing the breeze in, shading from the sun, or sheltering from sudden raindrops at your convenience.
Crafted from robust, sustainable materials, our louvre roofs are more than just a stylish addition – they're a lasting investment. Experience the perfect balance of nature and comfort with Apollo Patios' Adjustable Louvre Roofs, and redefine outdoor living in Brisbane.
Experienced professionals
Get in touch with our Brisbane team for a personalised quote
Looking to elevate your lifestyle with Apollo Patios' premium Louvre Roofs? Our dedicated Apollo Patios Brisbane team is just a call away. We're ready to meet you at your home and help you explore the endless possibilities of outdoor living improvements with our custom-designed louvre roofing systems.
We're operating in several areas in Queensland, including:
Brisbane
Gold Coast
Hervey Bay
Jimboomba
Sunshine Coast
Toowoomba / Darling Downs
Remember, your dream outdoor space is just a call away with Apollo Patios Brisbane. Reach out to us on 1800 007 321 to arrange your complimentary design consultation today.
Custom design
Tailor-made louvre roof systems for your Brisbane home
At Apollo Patios, we believe your home is as unique as you are. That's why our Lumex Louvred Roof System is available in a wide array of styles, primed to be customised to your special outdoor space and blend effortlessly with your home's aesthetics.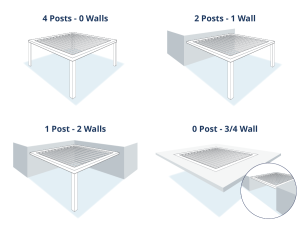 Interested in the fine details? You're welcome to download our Louvred Opening Roofs Brochure below for a comprehensive view. Or, if you'd prefer a personal touch, don't hesitate to connect with our dedicated Apollo Patios Design Consultants – they're always ready to lend a hand and a few inspiring ideas, too.
High quality
Key features of our louvre roofs in Brisbane
Privacy and Light Control
Experience the power of personalisation with our motorised louvre blades, designed to rotate up to 130 degrees based on your preference. Fancy a sunbathed pool deck or a shady outdoor living area? You decide. An added rain sensor makes the roof watertight against any unexpected Brisbane showers, while integrated LEDs set the mood when the sun goes down.
Strong Construction
Crafted with premium sustainable aluminium and stainless steel, our robust structures range from 3 to 8mm in profile thickness. We ensure your investment is built to endure Brisbane's unique weather conditions. Plus, our open roofing louvre systems enable cross-flow ventilation, keeping your outdoor spaces comfortably cool year-round.
Smart Technology
Make your life easier with our optional rain sensors and LED lighting systems. With the added benefit of app control to opening and closing louvre roof system, you're the master of your outdoor space, wherever you are in Brisbane.
Powder Coat Colour Options
We offer versatile Powder Coat colour choices, including classic White or modern Monolith, to complement your Brisbane home's aesthetic. Fancy a custom shade? We're flexible and ready to cater to your unique needs.*
10-year Warranty
We take pride in our work, which is why we offer a standard 10-year Warranty on Powder Coat. Bask in the winter sun or enjoy your outdoor living area without worry. With Apollo Patios, we've got your outdoor areas well protected.
Inspired spaces
Opening roofs gallery
Be inspired. Explore these images of louvred opening roofs.