Adjustable Louvred Roofing
Open Roof Patios
Convenient comfort
Experience the Outdoors in Style with Apollo Patios
At Apollo Patios, we believe in the power of outdoor living, and we have the perfect solution to help you enjoy it year-round – our Adjustable Louvred Roofing. This innovative design gives you control over elements, letting you adjust the shelter of your outdoor space to let in direct sunlight, keep out rain, or maintain the perfect shade.
Now, come rain or shine, you can relish the beauty of the outdoors from the comfort of your Apollo Patio. You deserve the best, and that's what we deliver.
Custom design
Custom Designed Open Roof Patios to Suit Your Lifestyle
Apollo Patios isn't just a builder of patios with an opening roof system – we're your collaborators in creating bespoke outdoor living spaces that reflect your individual lifestyle. We recognise that each home possesses its own distinct charm, and our extensive range of design options ensures we can tailor a solution that harmonises with your home's unique aesthetics.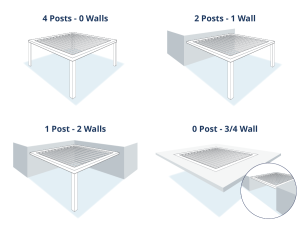 Book a Design Meeting with our Design Consultants or review our Louvred Opening Roofs Brochure below for more insight.
Impressive features
Why Build a Louvred Roof Patio?
Privacy and Light Control
With our Louvre Roof Systems, you are in complete control. The motorised rotating louvre blades let you regulate the natural light, shade, and privacy levels effortlessly. In addition, our optional rain sensor ensures you stay dry, should the weather change for the worst. Offering a unique rain protection that can be programmed or sense changing weather conditions. And for those enchanting entertaining evenings, our in-built LED lights set the perfect ambience.
Strong Construction
Experience the robustness and resilience of our opening-roof patios. Crafted from superior materials, the 3mm to 8mm structural profile thickness guarantees a patio that resists weather and stands the test of time.
Smart Technology
Our louvered roof patio is a marvel of technology with optional rain sensors, LED lighting options, and app control to make adjusting the louvres even easier. You be the boss with the option to have remote control over your roofing system, giving you a whole new level of outdoor living experience. The practicality of your outdoor living space is now in your hands.
Powder Coat Colour Options
Select from an array of classy powder coat colours like White or Monolith to complement your house's look. Fancy a specific colour? We can customise that, too.
10-Year Warranty
At Apollo Patios, we take pride in our patios equipped with louvered roofs. Hence, we offer a standard 10-year warranty on the powder coat, a testament to our confidence in our product's quality.
High quality
Why Build Your Open Roof Patio with Apollo Patios?
Your outdoor living area is more than just an addition to your home – it's a personal statement of your unique taste. Apollo Patios, committed since 1995 to delivering the highest quality, is here to help you manifest your vision. Our Design Consultants and Installers are adept at crafting a patio louvred roof tailored to your needs.
We are proud to offer innovative design solutions that surpass industry standards, and all at unbeatable rates. Our team's expertise spans all styles, designs, and materials, ensuring a flawless and worry-free construction process.
Apollo Patios prioritises structural soundness and quality in our manufacturing process, offering a louvre roof system you can rely on. Trust us to transform your outdoor space into a vibrant living space.
Experienced professionals
Open roof patio locations
We have a network of professional builders throughout Australia who can help you create the perfect open roof patio for your home.
Outdoor lifestyle
How Much Does an Open Roof Patio Cost?
Costs can fluctuate depending on the size, configurations, accessories you choose.
Our skilled team is on hand to collaborate with you in designing a sublime outdoor area that meets your individual needs and respects your budget. We're all about making your dream space a reality, so don't hesitate to contact us today.
Here at Apollo Patios, we've got all bases covered. Get in touch with us for a bespoke quote.
Inspired spaces
Opening roofs gallery
Be inspired. Explore these images of louvred opening roofs.