Adjustable Louvred Roofing
Louvre Roofs Canberra
Convenient comfort
Experience outdoor living in Canberra like never before with Apollo Patios
Discover a whole new way to enjoy the outdoors with Apollo Patios' premier Lumex Louvred Roofing System, tailored specifically for Canberra's unique environment. No longer will unpredictable weather conditions put a damper on your outdoor activities; our state-of-the-art system offers unparalleled control over your outdoor conditions.
Crave the warmth of the sun, seek solace in the shade, or need a shield from the rain? The choice is yours! Elevate your outdoor living experience with Apollo Patios' Louvred Opening Roofs – your bespoke outdoor sanctuary in Canberra.
Experienced professionals
Get in touch with our Canberra team for a Personalised Quote
Imagine transforming your outdoor space with an exquisite Lumex Louvred Roofing System personalised to your liking. The experienced team at Apollo Patios Canberra is eager to help you realise this dream.
We are proud to service the whole of the ACT and surrounding areas, including:
As far east as Braidwood
As far south as Cooma
As far north as Yass
Canberra
Goulburn
Young
Feel free to contact us on 02 6162 2650 to arrange a free, no-obligation design consultation in the comfort of your home. We can't wait to bring your vision to life!
Custom design
Bespoke louvre roof systems for your Canberra home
At Apollo Patios, we recognise the distinctive charm of Canberra homes. We appreciate that each property tells a story, which is why our Lumex Louvred Roofing System is available in an array of configurations, each ready to be tailored to your unique outdoor space.
We'll ensure your new opening louvre roofs integrate perfectly with your home's aesthetic and the Canberra environment.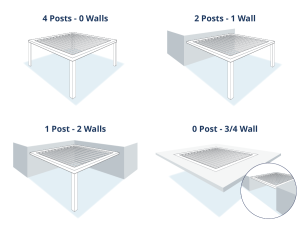 Keen for more information? Dive into our Louvred Opening Roofs Brochure for a comprehensive overview. Alternatively, why not chat with our dedicated Apollo Patios Design Consultants? They're excited to assist you in your journey.
High quality
Key features of our louvre roofs in Canberra
Privacy and Light Control
Our motor-driven rotating louvre blades put the power in your hands. With the flexibility to adjust up to 130 degrees, you can create the perfect balance of natural light, shade, or privacy for your outdoor areas to match your mood or the occasion. With an optional rain sensor, you won't worry about unexpected showers, while integrated LED options create the ideal evening atmosphere.
Strong Construction
Our opening roof systems are more than just aesthetically pleasing. Constructed with a profile thickness ranging from 3 to 8mm, our louvre roofs use top-quality sustainable aluminium and stainless steel. Designed to weather Canberra's unique climate, your investment is built to last.
Smart Technology
Immerse yourself in the future of outdoor spaces with our optional smart features. Stay in control of your environment anywhere, anytime with the intuitive APP control. With rain sensors and LED lighting systems at your fingertips, you're never far from your outdoor sanctuary.
Powder Coat Colour Options
Select from classic White or modern Monolith to complement your Canberra home's style. Fancy a custom colour? We're flexible and ready to cater to your unique preferences.*
10-year Warranty
We're confident in our work, and it shows. That's why we offer a standard 10-year Warranty on Powder Coat. Enjoy peace of mind knowing we've got your back.
Inspired spaces
Opening roofs gallery
Be inspired. Explore these images of louvred opening roofs.