Adjustable Louvred Roofing
Open Roof Pergolas
Convenient comfort
Control your climate, enjoy your space
Revolutionise your outdoor living space with Apollo Patios' Open Roof Pergolas featuring Adjustable Louvred Roofing. Our motorised rotating louvres put you in charge, offering complete control over the amount of airflow, rain, or sunlight entering your alfresco space. The best part? No more cutting outdoor entertaining short, no matter the weather.
Imagine hosting a barbecue in the middle of a summer thunderstorm or enjoying a cosy evening under the stars. With our state-of-the-art louvre roof system, the possibilities are truly endless.
Custom design
Custom-designed open roof pergolas to suit your lifestyle
At Apollo Patios, our louvred-opening roof pergolas are anything but a one-size-fits-all solution. We understand that every home is unique, which is why we offer a variety of configurations to suit your specific needs and perfectly complement your home's design.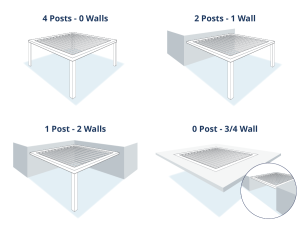 Enquire today to book a consultation with our Design Team or download our Louvred Opening Roofs Brochure below for further details.
Impressive features
Why build a Louvred Roof Pergola?
Privacy and Light Control
With motor-driven rotating louvre blades, you can easily adjust the amount of shade, light, or privacy you want throughout the day. And with an optional rain sensor, you don't have to worry about getting wet when it starts to rain. Plus, our integrated LED lights help create the perfect vibe for entertaining at night.
Strong Construction
Our opening louvre roof pergolas are built using high-quality materials and have a structural profile thickness of 3 to 8mm, making them sturdy and durable enough to withstand the elements and provide a long-lasting structure.
Smart Technology
Our louvered pergola comes equipped with optional rain sensors, LED downlights or striplights, and app control for easy optimisation of our adjustable louvres. Our smart louvre roof systems ensure that you have full control over your outdoor living area.
Powder Coat Colour Options
Choose from a variety of stylish powder coat colours, including White or Monolith, to match your home's aesthetic. And if those don't suit your style, custom colours are also available upon request.
10-Year Warranty
At Apollo Patios, we stand behind the quality of our Louvred Roof Pergolas, which is why we offer a standard 10-year warranty on the powder coat.
High quality
Why build your open roof pergola with Apollo Patios?
At Apollo Patios, we understand that your outdoor space is an extension of your home and should be a reflection of your personal style. That's why we've been committed to providing unbeatable quality since 1995. Our experienced Designers and Installers have the skills to create a stunning patio roof that's perfect for your lifestyle.
We take pride in our unparalleled designs that offer superior performance, all at incredibly competitive prices. Our team of experts is well-versed in all designs, styles, and materials and provides complete peace of mind during your construction project.
Apollo Patios manufacture with structural integrity and quality in mind, ensuring that your roofing system delivers the quality you can trust. So, don't settle for a generic pergola – trust the experts at Apollo Patios to bring your outdoor living space to life.
Experienced professionals
Open roof pergola builder locations
We have a network of professional builders throughout Australia who can help you create the perfect open roof pergola for your home.
Outdoor lifestyle
How much does an open roof pergola cost?
The price can vary based on factors like size and materials. Don't worry, though – we've got you covered at Apollo Patios. Just reach out to us for a personalised quote.
Our team of experts will work with you to create a stunning outdoor living space that fits your unique needs and budget. We're here to help bring your vision to life, so don't hesitate to get in touch today.
Inspired spaces
Opening roofs gallery
Be inspired. Explore these images of louvred opening roofs.